Add to bookmark
The region was populated by nomads during the lower Palaeolithic period, around 400,000 BC, and was settled around 5,000 BC. The first traces of permanent settlements date from the end of the 6th century AD. Greek and Latin authors wrote of the Gallic people Tricasses around the 5th and 4th centuries BC.It is estimated that in the first centuries AD, the city of Augustobona Tricassium (Troyes) had around 6,000 soulsand a surface area of around 80 hectares, bordered on the north and south by marshes.
It appears that it developed from east to west, along the Roman ways, but owing to pillaging and Germanic invasions, the inhabitants had to withdraw behind the ramparts starting in the second half of the 3rd century. When the stone buildings were destroyed, they built the first wall on the remains of the Gallo-Roman castrum (a square measuring more or less 400 m on each side).
At the start of the 4th century, Troyes was among the 25 larges dioceses of Roman Gaul. The bishopric was founded in 344 and the bishop quickly became the city's leading figure.
The middle-age
In 451, the city escaped invasion by the hordes of Attila the Hun thanks to the intercession of its Bishop Saint Loup. Incorporated into the Frank kingdom in the 5th century, Troyes then joined the kingdom of Burgundy from 561 to 741 and then was ruled by the Count of Champagne.On 7 September 878, an exceptional event took place. The Pope crowned King Louis le Bègue of France at the Saint-Jean-au-Marché church.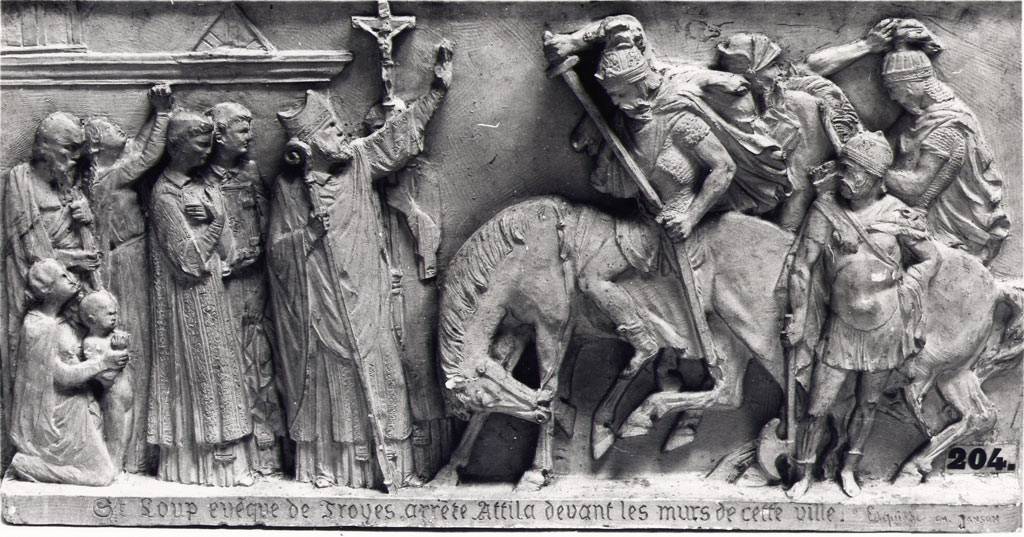 Between 887 and 892, the Normans saked the city, whose ramparts were no longer strong enough to protect it.
In the 12th and 13th centuries, prosperity reigned, in particular thanks to the impetus of Henry 1st the Liberal and Thibaut IV, who developed the crafts sector, such as textiles, leather, parchment and building trades. Troyes was also the centre of the famous foires de Champagne.

The city grew beyond its old ramparts eastward, southward and then to the west, taking on its characteristic shape of the "bouchon de champagne" (champagne cork).It tripled in size, had 20-30,000 inhabitants and became one of the largest and richest cities in France.
The prosperity of the Counts of Champagne enabled them to find the best matches for their children. One married the daughter of the King of Navarra, who brought royal influence into the family. Almost a century later, Jeanne of Navarre, Countess of Troyes, married Philippe the Fair, who became King of France in 1284.
Paradoxically,
Paris advanced ahead of Champagne, bringing about the decline of Troyes for several centuries. The people of Troyes would regain their prestige in the 16th century.