The Official Bulletin: an original publication by the Federation of the kind ambassadors of Troyes La Champagne!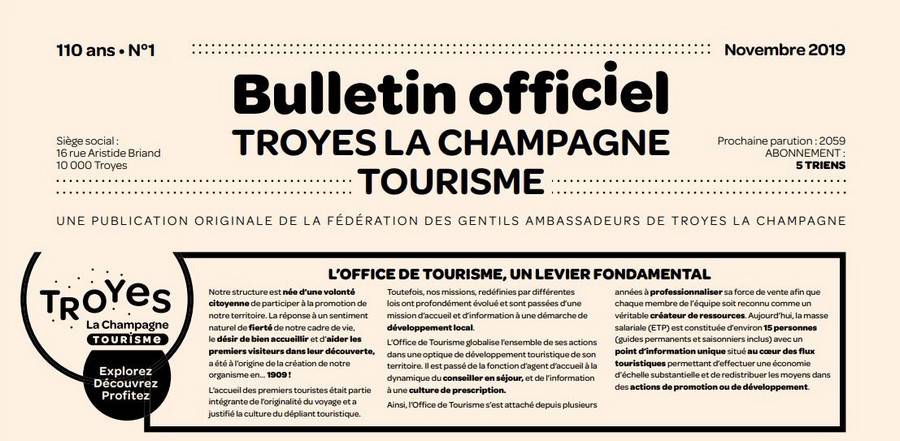 The Tourist Office, an essential organization
Our structure wereborn from the citizens will to take part in the promotion of our territory.
It was their answer to a natural pride in our living environment, and their willingness to welcome and help the first visitors in their exploration. This has been the origin of the creation of our organization… back in 1909!
At the time of the first tourists, the way they were welcome was a key factor in their journey, and this is how the tourist brochure became a true culture. However, over time and through different laws, our missions were re-defined and evolved profoundly from the mission to welcome and inform visitors to a true local development strategy.
All the actions of the Tourist Office aim at the tourist development of the territory. It went from a receptionist role to the real function of a trip advisor, and from giving away information to managing a true prescription mission.
Thus, for several years, the Tourist Office has been working to professionalize its marketing force so that each team member can be considered as a true resources creator.
Today, the structure has about 15 employees (permanent guides and seasonal workers included) with a unique information point located at the heart of tourist flows, which is strategic as it creates an important economy of scale so it becomes possible to dedicate resources to promotion and development actions.