Add to bookmark
Tradition + Shopping + Heritage = Troyes!
Time is unlimited, budget is up to you, and there are no judges and no cars. Emile Zola street is reserved to pedestrians, except for buses, so still be careful. There, you will find an environment that combines historical heritage with economical development: better said, the joy to do some shopping in a unique setting.
Shopping, an age-old story
« Are you going for shopping again? – Sorry, but I have to follow traditions! »
This is the excuse that locals and visitors can use when they feel some shopping urge. From the 12th century, the Champagne Fairs were organized around Saint-Jean church at the market, and in the streets and nearby squares. Nowadays, they take place every year late May / early June at the exhibition centre.
The Fairs contributed to the fame of Troyes beyond the borders of the city and the country. Craftsmen from all around the world used to meet in the Fairs district, in the same way we meet today « in the city » to do some shopping and have a drink at a terrace (or a hot chocolate in winter).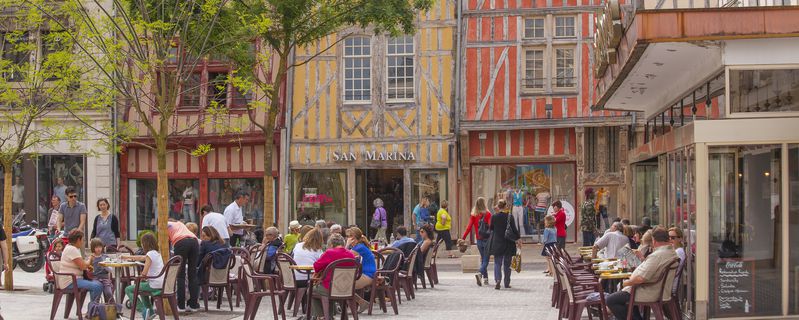 Get distracted!
The biggest brands make the happiness of all of us and the smallest shops make the happiness of each of us. The half-timbered houses renovated in their original colors welcome you in a shimmering setting to stroll through the stores.
Little advice: start your walk from Jean Jaurès square, where you will discover the old labour exchange where workers would come to find a job. Then, walk down through Emile Zola street, and do not hesitate to follow your inspiration and explore the perpendicular streets stuffed with nice little shops and heritage treasures. Raise your head to admire the architecture, sit down and most importantly relax! 
Head and feature photo: Shopping© Gonghuimin
Publié le 25 May 2020 par Jeanne