Come and try an original combination between spending a great time running and exploring exceptional sites on the territory of Troyes Champagne Métropole!
The Heritage Marathon concept
A 42.195 km tour (official distance of a marathon) on roads and white tracks through Troyes Champagne Metropole, supervised by leaders controlling a regular running pace of 8 to 9 km/h, and stopping for many guided visits of original and unusual sites along the way.
The tour, with these different stops, is dedicated to the discovery of about fifteen sites, commented by professionals and passionate people.
What makes it unique: No matter the performance, only ancestral sport values are important: sharing, friendliness, and the pleasure of discovering the surroundings…
While at a relaxed pace, the runner is still moving faster than for a traditional guided tour. Therefore, it makes totally unknown sites available and it offers a wider view on our living environment on the territory of Troyes Champagne Metropole.
It is not about breaking speed records! Right on the contrary, this day mantra is: exploration and friendliness through movement!
Practical information
The next Heritage Marathon will be Saturday June 12, 2021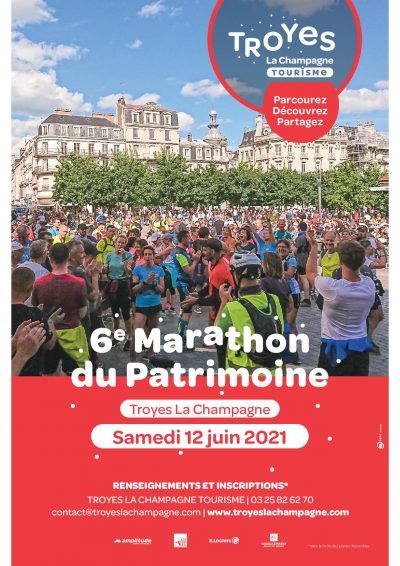 Click here to see the photo album of the 2019 edition on our Facebook page
Discover the 2019 edition
Publié le 25 May 2020 par Sylvie