Add to bookmark
The « andouillette » : a long story…
It is not white pudding nor sausage: the « andouillette » of Troyes is unique. Made out of pure pork, unlike pale copies allowing the use of veal, this is part of a long deli meat tradition inherited from the Gallo-Roman times. There is no evidence that it was born on our land, but also no proof that it was not! Above all, the andouillette of Troyes is an intangible recipe, an expertise in action and a real craftsmanship, making this worldly renowned gastronomic specialty so unique.
There is a good story about it. In the year of grace 1590, 4 000 men of the royal army spread out over the city at night to try and take it back from the Duke of Guise's supporters
Once they reached the Saint-Denis suburb, their nostrils got suddenly attracted by a tempting smell. It was the smell of the andouillettes being prepared by the local butchers. Giving up on their war mission, the soldiers hurried up towards this delicious dish and started to eat it with more gluttony than one could ever imagine. Surrendering to their greed, they became an easy prey for the leaguers who surprised them in the middle of their feast, and started to slay a few hundreds of them, leaving the luckiest ones alive and with a full belly.
Not every person tasting the « real andouillette of Troyes » will necessarily experience such inconveniences.
The king Louis XIV and the emperor Napoleon, among other crowned heads, enjoyed it very much. Once upon a time, the Aube culinary specialty was a gift honoring both the giver and the receiver. It was a luxury dish served at any respectable banquet. There was no great table without a good andouillette. The andouillette of Troyes was officially mentioned in 1590 for the first time.
The andouillette of Troyes comes from a long pork butchers tradition that has its origins back at the times of « our ancestors, the Gauls ». Early on, the people from Troyes mastered the art of preparing pork meat. A poet once wrote that the city was famous for the « pork heads on the table». It is also famous for its beef tongues and flavoured sheep tongues. The andouillette of Troyes is loved in Paris.
It is almost considered as a luxury product, as the extremely high transport fees to ship it to the capital seem to reveal.
The real Andouillette of Troyes
Coming from a long Troyes' pork butchers tradition, the real andouillette of Troyes is an artisanal product, exclusively made out of pork large intestines and stomachs, selected especially and cut into long stripes.
It is seasoned with fresh onions, salt and pepper and hand-prepared in its own skin. Then, it is slowly cooked, for 5 hours!…, in a tasty stock.
The Andouillette of Troyes can be eaten: on skewers, with sauce, on the barbecue; in papillotes, cold and cut into slices as a starter, or even (and this is delicious) with some sour cream, mustard, white wine and shallots.
A long time ago, the Andouillette of Troyes started to be considered as a luxury product and famous pork butchers from Troyes and the Aube department contribute very actively to raise its fame, not only in France but also all around the world.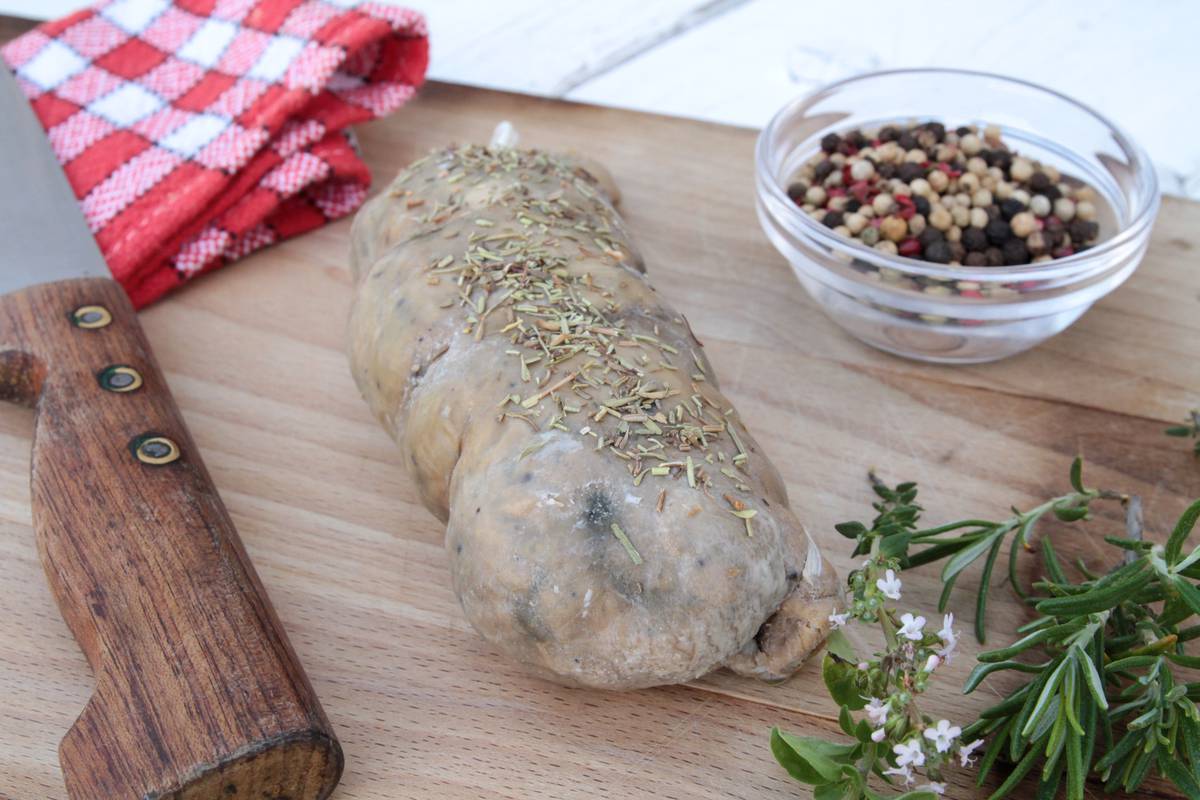 Have you said « AAAAA »?
The andouillette of Troyes recipe is unchangeable, even if it is also kept secret very seriously: it is two thirds of pork large intestines and one third of pork throat and stomach cut into strips, seasoned with salt and pepper, herbs and spices. The real andouillette of Troyes is « hand-prepared » (or « pulled with a string »), « embossed » and « stuffed ».
Then, it is slowly cooked in a flavoured stock. Three kilos of ingredients are necessary to make one kilo of andouillettes, each one weighing between 150 and 180 grams. It is made in an artisanal or in an industrial way by pork butchers, and more rarely in some restaurants.

There are a handful of ways to taste it: hot or cold, grilled or pan-fried, full or cut into slices, on skewers, cooked into foil or on the barbecue, as an aperitif, a starter or a main course, drizzled with cider, wine or champagne, served with mustard, shallots and sour cream, or even with fried chaource cheese, another of the Aube culinary specialties.

The andouillette of Troyes is not covered by PDO or PGI. This is why an association decided to « label » the professionals making the best andouillettes. These heritage guardians gathered under a rather mysterious collective name: AAAAA, or 5A. It is a French acronym for the Friendly Association of the Real Andouillette Lovers (Association Amicale des Amateurs d'Andouillette Authentique).

This group becomes a jury for blind tasting sessions and is composed of food critics, pork butchers, cooks and mere enthusiasts. The 5A give a diploma that the andouillette maker can display and claim for a two years period. It is considered as a proof of quality and the guarantee that the andouillette was elaborated according to the professional rules and in respect of the tradition. Most of the andouillettes with a 5A certificate are from the Aube department, but not only, as some can even be found abroad.

Here is a last detail: the 5A association can not be suspected of favouritism as this group is based in Paris !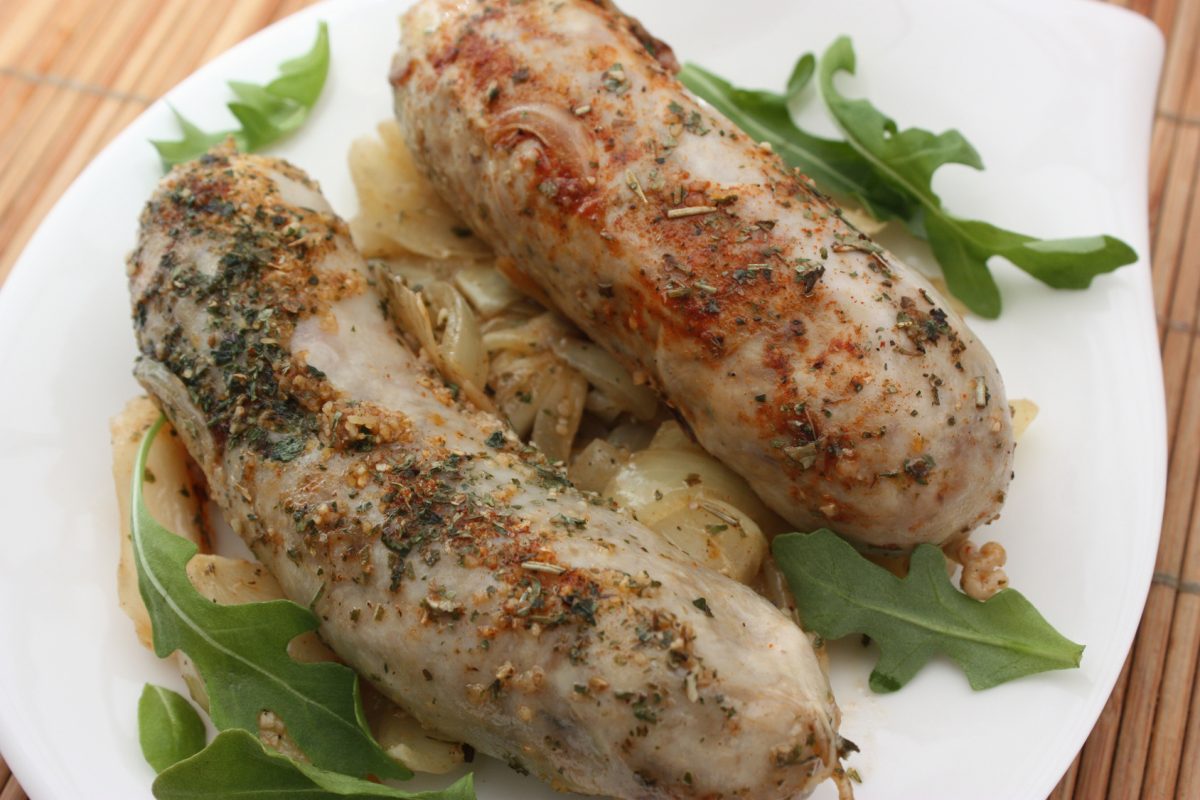 As for us, we are not supposed to be absolutely fair and neutral in this debate. Therefore, we do not fear to be accused of chauvinism and we are proud to claim that the andouillette of Troyes is the one and only andouillette!
To find out more
>>> www.aaaaa-asso.fr
Delicious recipes
Courtesy of Christophe Thierry, at the Maison THIERRY in Sainte-Savine.

Andouillette gratin with Chaource
Preparation time: 10 min – Cooking time: 7 min plus 5 min
Ingredients: andouillettes, Chaource cheese, 1/2 l sour cream, potatoes, salt, pepper.
Preparation
Oil an earthenware dish and place the andouillettes in it. Cook them at 180°C for 7 minutes, then cut them in half lengthwise.
Place large slices of Chaource on the andouillette halves and grill for 5 minutes.
Reduce the cream in a saucepan, let it melt and adjust the seasoning.
Place the andouillette gratin on a plate, surround with Chaource sauce and serve with baked potatoes.
Pan-fried andouillettes with chanterelle mushrooms
Preparation time: 10 min – Cooking time: 7 min
Ingredients : 4 andouillettes, 400 g chanterelle mushrooms, 20 g butter, 1 minced shallot, a sprig of rosemary, salt and pepper.
Preparation
Cut each andouillette in 4 pieces. Gently wash and rince the chanterelle mushrooms (or girolles in French).
In a frying pan, melt 20 g of butter over medium heat and add the andouillette slices and the shallot.
Season with salt and pepper and fry over a low heat for about 7 minutes.
Serve straight away in plates decorated with a few rosemary sprigs.