This commune covers an area of 73 hectares, and has 3187 inhabitants who are known as 'Noyats'. It is located between La Chapelle-Saint-Luc, Sainte-Savine and Troyes and is 3km from Troyes city centre. It is linked to these communes via main roads, some of which have cycle lanes.
In the 1970s the commune of Noës switched from being officially regarded as a rural commune and became an urban one. With a busy community life, and having worked hard to create a quality of life that is much appreciated by its residents, the smallest commune in the département of Aube has made its small size an asset. The Villes et Villages Fleuris organisation's award of three flowers has contributed to bringing the community together and boosted the attractive surroundings of Noës.
The hamlet of Noës was founded in 1162 and its name was derived from the word 'noue' which referred to the fertile, damp soil. The Rue des Noues, the ancient Gallo-Roman road from Paris and Montereau ended at Noës.
The church, which is dedicated to the Nativity of the Virgin, dates from the 1st quarter of the 16th century and was classified as an historic monument in 1907. It is a 'hall church', which means that all the sections of the building are approximately the same size, and that the ceiling is the same height throughout the church.
The floorplan is rectangular with only the apse protruding from it. This regional feature is only found in around twenty churches in the Aube département. This design means that the windows are not very tall, nevertheless the stained-glass windows may still be of high quality, as here. The windows in this church mostly date from 1510 – 1530, although some come from the last quarter of the 17th century and have been classified as historic monuments since 1894.
The iconography includes traditional subjects such as the life of Christ, the Virgin Mary and the saints, and more unusual themes such as the illustration of vice represented by people playing cards (Window 0).
The doorway dates from the last quarter of the 17th century and shows features of what is known as classicism, meaning the influence of Greco-Roman antiquity. In this case, mascarons (faces carved around the doorway), fluted columns, the various details and height of the entablature contribute to the Roman feel of this doorway.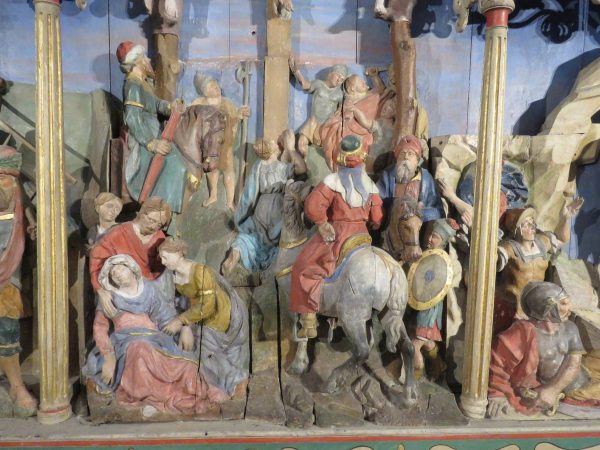 Opposite, on the Place Jules Ferry, standing on a plinth, is an obelisk decorated with the victory palm, croix de guerre medal and the tricolour badge, which commemorates Noës' 'glorious dead'.
TO FIND OUT MORE
>>> Commune Website
>>> Accomodation
>>> Catering
>>> Shops and Services