Add to bookmark
While Troyes is famous for Chrétien de Troyes, it is also associated with two other key figures from the Middle Ages. The names of Rashi and Bernard of Clairvaux remain indelibly linked to the city of Troyes and the Aube département to this day. Both men were eminent thinkers and scholars who played a key role in their respective eras.
The young Bernard of Fontaine was just 22 years old when he founded Clairvaux Abbey in 1115. The Cistercian monk adopted his own, radical interpretation of the order's founding principles, as laid down by Robert of Molesme: simplicity, modesty, sobriety, austerity, asceticism, mysticism, abstention and contemplation.
Despite his detachment from material things, he nevertheless had a keen understanding of the world around him and was highly politically aware. Bernard played a major role in the foundation of the Order of the Temple, defended the "Holy War" in his writings and was a vocal advocate of the Second Crusade.
The influence of Clairvaux Abbey spread across Europe, giving rise to some 200 new Cistercian monasteries in numerous countries, including France.
In many ways, he was considered the spiritual guide of the Western world and one of the most influential figures in Christendom. This highly orthodox Christian, who became "Saint Bernard" in 1174, was also a defender of the Jews, who stood up to the pogroms that they suffered.
At this time, Troyes was home to a large Jewish community. One of the city's children would go on to become the world's most famous Jew and an iconic figure in Judaism: Shlomo Ben Yitzhak, better known as Rashi. The famous Troyen Rabbi is best known for his extraordinary talent as an interpreter and commentator of the Bible and the Talmud.
He founded a Talmudic School in his native city, which attracted students from far and
wide, keen to learn more about his comments on the sacred texts. His teachings remain influential today, representing a model of openness and dialogue between cultures.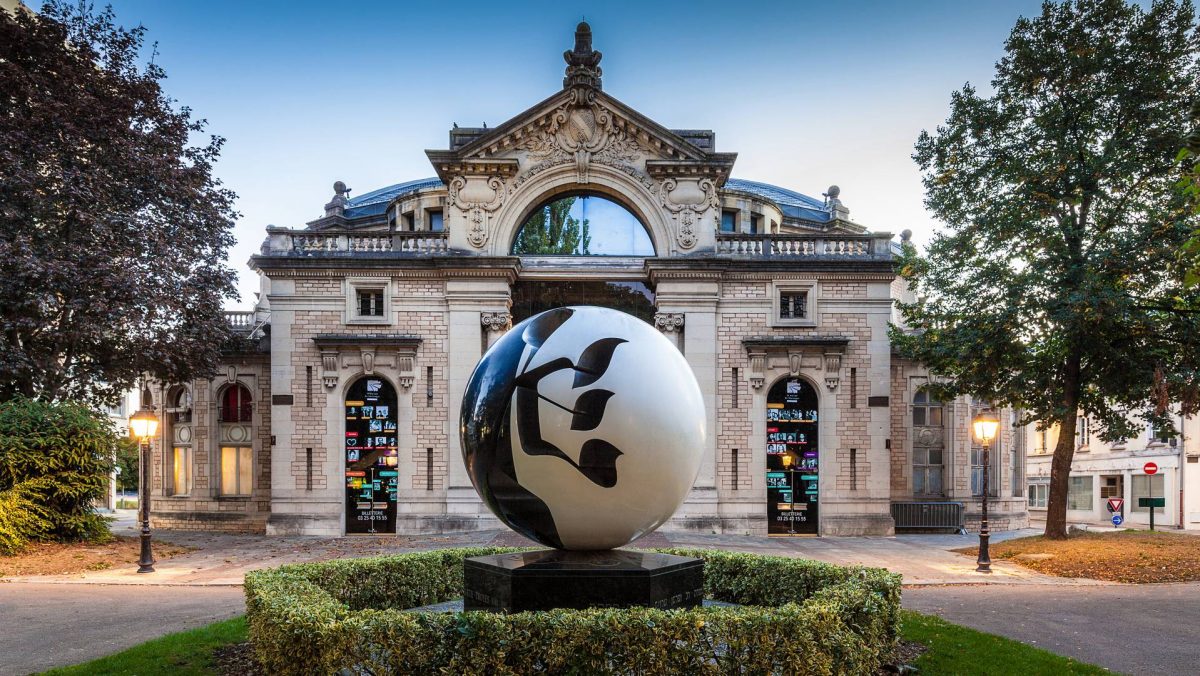 Rashi's works also provide an important insight into the French language during his era (the second half of the 11th century), when French remained a variant of the ancient Champenois dialect and was still in its infancy. The Rabbi translated difficult and technical terms from Biblical Hebrew into this burgeoning language. Just like Chrétien de Troyes, Rashi made a major contribution to the expansion of French-language literature in the central Middle Ages.
Rashi remains an important figure in Troyes to this day, where the Rashi Institute opened its doors in 1990, opposite the synagogue. This European centre for Hebrew research and study provides courses and classes to a universal audience, and also hosts conferences and exhibitions.
In the same year, the 950th anniversary of Rashi's birth, a monument was erected in his memory opposite the Théâtre de Champagne, close to the former Jewish cemetery where he was buried. This black and white ball by Raymond Moretti, which symbolises contrasts and bears Rashi's epigram, was officially unveiled by Nobel Peace Prize winner Elie Wiesel.